He is our main guest for the two Outreach Program we had. The kids love Jollibee, oh, not just the kids, the grown ups are so star struck with him.
Outreach Program Year 2 happened in 2009, our beneficiary wasTahanan ng Pagmamahal in Kapitolyo Pasig. Volunteers for the event are the members of a forum we used to call Banidad, Kissy, Mei, Dhey, Kharmz, Olive, Lene, Rose, Chii and BF, Kim and of course Paulo, our sweet and diligent organizer.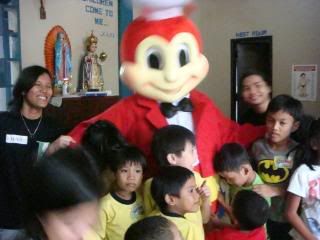 We didn't give banner for this orphanage this time, they prefer to receive foods. We gave them sack of rice, canned and frozen foods. We also gave each kids their own bags filled with different supplies
The experience was great, all had fun and of course we had a little bonding after the event. watch out for the next post.
By the way, see those black shirts, it's what we give to volunteers and to those who pledge cash and kind for the event.
2 Responses to "Are you missing Jollibee???"