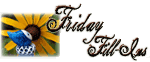 1. Eating with my husband and son today at megamall feels great.
2. The solution is to think positive.
3. When I put my son to sleep, me too would fall asleep.
4. How about eating pizza for dinner, I read from Mommy Paula's blog that there is a buy one take one at Pizza hut.
5. Eating at Lutong Macau located in Megamall is something I highly recommend!
6. Imagine walking in the beach with the love of your life thinking nothing except your love and happiness.
7. And as for the weekend, tonight I'm looking forward to going home on time and no heavy traffic will be on my way, tomorrow my plans include washing the clothes, opening my PC to do some blogging and checking my facebook account, and of course more bonding time with my son and Sunday, I want to cook a special meal for my family and have a rest in the afternoon!
10 Responses to "Friday Fill-ins"