Archive for the 'contest' Category
First, I would like to thank all of the participants for my Pasko sa Agosto Giveaway. There are a total of 40 participants with a total of 297 raffle points. I randomly verified the entries, the participant who was able to do all the task and the additional tasks for extra points will have a total of 10 entries. Those who just did the basic task will have one entry. Here's the list of the participant and their corresponding points.
shaz gepana 10
lyza 10
mommygiay 10
Mitchteryosa 10
Divine 7
janine 10
seth 7
Ane 10
Cielo 10
Mei S 10
Rachel 10
Aine 10
Elinor  10
LadyMishel 10
Fe 10
Leizle Demaisip 10
Maricel Tan 10
silvergirl 9
Crystal Cruz 8
Bachuchay 2
Dhadha 10
Min Viloria 6
zoan 10
Marie Flor 10
kayce 10
glaiza rica 1
Arra Morta 10
Julie anne 10
Lisa 10
cristina 10
Gab Garcia 1
camille 1
Louieneth  10
stef 6
Rovie 1
melandriaromero 2
Frances Reyes 1
BlogGirl 1
Rossel 2
Momi Jes 2
I will use The Hat to pick the winner. And the winner is…..
Congratulations to Maricel Tan, I will contact you so I can send your prize.
Once Again, thank you all for joining my giveaway.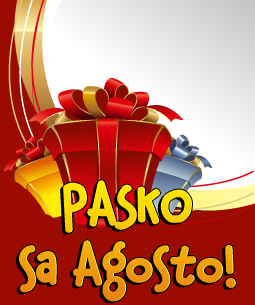 Nais mo bang makaranas ng Pasko sa Buwan ng Agosto? Hindi ba napakasaya kung ikaw ay makakatanggap ng mga regalo sa buwan na ito? Ngunit masarap din magbigay kahit hindi araw ng pasko, kaya naman ako ay mamimigay ng mga Avon items na nasa ibaba sa mga taong nakatira sa Pilipinas o ikaw ay may address dito upang maipadala ko ang iyong premyo. Ito ay isang pasasalamat sa iyong patuloy na pagbisita sa aking site.
Paano sumali?
Napakasimple lang, gawin lang ang mga sumusunod:
1. I-like ang aking facebook page na Simple Pero Rock.
2. I-follow ako sa pamamagitan ng GFC na matatagpuan sa aking sidebar.
3. Magcomment sa ibaba ng iyong complete name, facebook name or url, GFC username at email address para macontact kita.
Maaari ka ring magkaroon ng dagdag na puntos kung gagawin mo ang sumusunod, magkakaroon ng additional entry sa bawat gagawin.
Like these Facebook pages:
Lean and Fab
The Adventurous Little Prince
My Red Hot Reviews
A Fight for A Friend
Earn Money Online with Red
Follow my other sites thru GFC
Earn Money Online with Red
My Red Hot Reviews
The Adventurous Little Prince
Contests, Freebies and Giveaway Craze
Pagkatapos gawin ang mga additional entries, magcomment ulit kung ano-ano ang inyong nagawa.
Napakadali di ba? Ang contest giveaway na ito ay mag sisimula sa ngayon hanggang August 31, 2011. Ira raffle ang lahat ng pangalan ng contestants via random.org. Iaannounce ang winner sa September 3,2011.
Lahat ay inaanyayahang sumali basta may address sa Pilipinas at ikaw ay may Facebook at Google account.
NOTE: This is not a sponsored giveaway and you are not required to make a purchase to join. I am paying for these items and that includes shipping.
Kung nais mo sumali sa iba pangpagive-away, iclick ang badge na nasa itaas. Maraming Salamat!!!!
It's been a long time since I last joined a contest online. But the other day I was able to join not just one but two contests. Though blogging about the contest is not in the mechanics, I decided to blog about it so you might want to join too.
First, PinayReviewer and WinilaCity Philippines is giving away 1,000.00 worth of Pancake House gift certificates. Joining is very easy, you just have to register, like a page at facebook and share the contest through facebook status. I won't go into details just go Pinay Reviewer for the details of the contest. Contest ends on April 24 and announcement of winners will be on the 25th. Contest is open to Philippines residents
Second, who wants to win this wonderful bag?
Pinay on the move is having her first contest and this bag is at stake. You can have a maximum of entries and the mechanics is as easy as A-B-C. The nice thing about this contest is that the host will give something back by sharing the cash value to C.R.I.B.S. foundation. Check out Pinay on the move for more details about the contest and a chance to give back. Contest ends on April 26. Contest is open to US and Philippines residents.
Nice contests, right? Join now!
Have you heard about the Black Mamba? The Black Mamba is Kobe Bryant's alter ego who shows his determination and "fight to the finish" spirit. He is known as "protector" of basketball as he fights off those wishing to destroy and attack the game. The movie also stars Kanye West, Bruce Willis, Danny Trejo, is a Nike Basketball production and directed by Robert Rodriguez.
Here's a trailer to keep you excited as I am.
The question is "Should I fear the BLACK MAMBA?" The answer is, I don't think so. Why should I fear him when I love watching basketball. My husband loves basketball and he plays it hard, he plays and fights to the finish just like The Black Mamba.
The film will be launched to consumers on Saturday, February 19, 2011, 6:00 p.m. at the Ronac ART Center, Ortigas Avenue, Greenhills, San Juan. Gates open at 4:00 p.m.

This is an entry to Nuffnang's Back Mamba contest.
Before the end of my contest. I wasn't able to give you the points update. I decided not give you now because the end is just so near. I decided to change the minimum points required for the raffle draw. If you have 200 points then you already have one raffle entry. You will receive another entry for every 100 points after. I will give you the list of contest participants in points ranking. Beginning from the highest pointer, while the names in red means they scored lower than 200 points. If you don't see your name on the list, it means you didn't fill up the required form which can be found here.You can still fill up the form so I can count your entries.
Sherry
Zoan
Mary Rose M
Rochelle Ann
Rossette
Shi Min
Elisa
Mona Liza
Levy
Kenneth
Nicole
Fe M.
Mys
Rosalie
Rochelle T
Rache
Gee
Christine A
Verna
Lourdes
Kenneth
Ryan
Tan pei
K

Pehpot
Joanne marie
Cornelio
Venos
Silvergirl
Emiliana
Christine V
Dinesh
Fiona
You still have time to join my contest and have a chance to win any of the following:
Blog post
* 1st prize
o $50 cash thru paypal
o One month Adgitize coupon worth $14
o one month ad space
* 2nd prize
o $20 cash thru paypal
o Make up goodies
* 3rd prize
o $10 cash thru paypal
o one month ad space
For the raffle prizes:
* One month adgitize coupon worth $14
* 2 -$10 cash thru paypal
* 4 – $5 cash thru paypal
* 5000 ec credits
* 2000 ec credits
* 3 – 1000 ec credits
Just follow the following simple steps to join.
1. Blog about the contest including my sponsor list and contest badge.  Just copy the codes here:
2. Subscribe to my blog's feeds. Just click the following:
Subscribe to Earn Money with Red by Email
Subscribe to Simple Pero Rock by Email
Subscribe to My Red Hot Reviews by Email
Subscribe to The Adventurous Little Prince by Email
Subscribe to Contest and Giveaways by Email
Subscribe to How to Make Money Online by Email
Subscribe to Food and Appetite by Email
3. Fill up the form HERE so I can count your entries
Doing the THREE EASY steps above will give you one raffle entry already. But if you want to share your most memorable experience as a blogger and have a shot on the blog post prizes, the create your entry now and place your link here:
If you have multiple blogs, you can spread the word about the contest by making a blog post about the contest, enter your links here and get a chance to win one of the 5 – $3. More blogs means more chances of winning.
And if you refer someone here starting now, I will give you additional 100 points.
If you want more points visit this page for more details.
Thank you everyone for joining!
THANK YOU again TO ALL PARTICIPANTS AND SPONSORS for giving your full support to my contest.
Finally, I was able to tally the points collected starting August 14 until today, August 29 at 6 in the morning. Take note that comments and referral points are not yet included.
Shi Min     –     780

Frances Nicole     –     285

Mary Rose     –     2285

Kenneth     –     265

Levy     –     335

Sherry     –     2320

Ma. Lourdes     –     235

Rochelle     –     925

Elisa     –     465

Silvergirl     –     185

Ryan     –     265

Zoan     –     1430

Seth     –     625

Rache     –     300

Cornelio     –     215

SR     –     210
There are some participants who filled up the additional points form but did not fill up the blogversary contest form, this form is the list of required task and this is your official entry to my contest. There are also some participants who have entered their link on the official blog post entry linky tool but still did not fill up the forms. Kindly fill up the blogversary contest form so I can officially count you as a participant.
If you also want to qualify for the raffle, just accumulate at least 300 points. Here's a summary of things you can do to reach 300 points easily.
Blog about the contest with sponsors code – 50 points
Place my contest badge on your side bar – 10 points
Subscribe to my blogs' feeds which you can find the list here - total of 150 points
Follow my blogs through google friend connect and networked blogs , you can also find the links here – total of 100 points
You can gain more points by following me at twitter and doing blog reviews. Be the top pointer and win $100 cash, blog make over, domain and hosting package plus adgitize coupon.
Easy right? Just head on to the main contest page for more info. Still have plenty of time to accumulate your points!