Archive for the 'Lessons in Life' Category
This Sunday will be the start of Advent Season. For Roman Catholics this is not the Christmas season yet, but greetings of "Merry Christmas" would be very common already. Advent is the preparation for the coming of Christ at Christmas. It is symbolized by the Advent Wreath. This is different from the christmas wreath as this is used for decorative purpose only. The advent wreath comes with three purple candles and one pink candle. The circular garland of evergreen branches symbolizes eternity. The candle represents the four Sundays of Advent. First purple candle is lit on the First Sunday which symbolizes hope; another purple candle will be lit on the Second Sunday which symbolizes love. The pink candle will be lit on the third Sunday, it symbolizes Joy, and the last purple candle will be lit on the fourth Sunday and it represents peace. Advent Season is the time we prepare ourselves for the commemoration of the Birth of our Lord, Jesus Christ. Let us prepare not just in material things but also in spiritual aspect of our lives.
This was our theme last year:
As early as February we were already organizing and looking for pledges for this event.
Since, our forum is dead already :D, we didn't plan this immediately.
But we want to pursue another Outreach Program this year.
We are still thinking of the theme, participants, budget, and all.
If and only IF, some bloggers would commit to help in any way they can, the theme can be something like
Forumers and Bloggers Unite for a Cause
what do you think? are you willing to help?

Still.. we are on the brainstorming process….. Feel free to suggest….

We had our first outreach program last 2008 at Pasig, the name of the orphanage is Jesus Loves the Little Children Foundation. We are a member of a forum called Banidad. no links..haha.. it's not existing anymore, and Paulo, suggested that we do something good.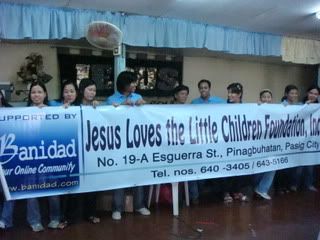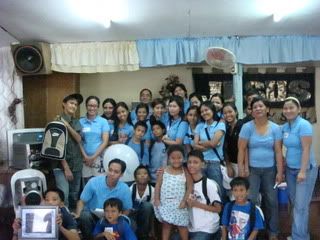 the kids have a lot of fun, and of course the kids at heart had fun also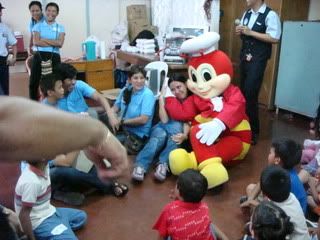 We had our own blue shirts, as a remembrance, it also served as our uniform that time. A member of the forum, of course our friend, Ems, gave a donation,as part of her birthday celebration. It was so kind of her, right?
So, our sweet Paulo did something for her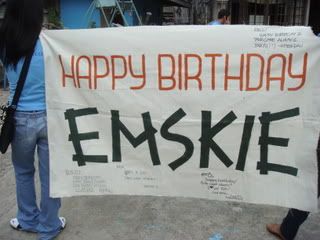 oh yeah, the aim of the title, is to let the outreach participant reminsce those days. hahaha. I'm already asking them if they want to have a Year 3. and Paulo the organizer needs a little encouragement so he will organize the outreach again. hahaha. where are you paulo? hahaha
Outreach year 2 post, coming up. hehehe
I do! I want to be prosperous. I am Prosperous. Last Sunday at the Feast, this was the first topic of Bro. Bo Sanchez six part series, Prosper! He preach about money at least once a year. Why? It's because of two reasons. First, one third of the Bible talks about Money. Would you believe that there were more verses about money than about faith and prayer combined? Jesus knows that we are physical beings and that money is a big area in our lives. God wants love to rule in this big area, he doesn't want us to reject money, he wants us to use it for love. The second reason, is that Money is a critical need today.
If you want to prosper then you have to change your emotional association with money. Many people associate money with evil. So we'll reject money like it was the devil itself. We have to change this because You'll gravitate towards what you subconsciously want, and avoid what you subconsciously do not want.
We must BELIEVE that we will prosper. God takes pleasure when we are prosperous. Its like when we see our child do a milestone, we are happy, it's same with God.
If you want to be prosperous, then BELIEVE.
"Honor the Lord with your wealth, with the first fruits of all your crops, then your barns will be filled to overflowing and your vats will brim over the new wine"
-Proverbs 5:9-10
Listen to the next teaching about PROSPER, attend The Feast every Sunday at Valle Verde Country Club.
I got this from an email. I don't usually read emails immediately, but I don't know why I clicked this and read it. BUT good thing I read it.  Now I want to share it to you bloggers especially to mommy bloggers.
I just pasted it. I am not really sure who the original author is, but thanks to him
LEFT OVER ONIONS IS POISONOUS

I  have used an onion which has been left in the fridge, and sometimes I
don't use a whole one at one time, so save the other half for later.

Now with this info, I have changed my mind….will buy smaller onions in
the future.

I had the wonderful privilege of touring Mullins Food Products, Makers of
mayonnaise.  Mullins is huge, and is owned by 11 brothers and sisters in
the Mullins family.  My friend, Jeanne, is the CEO.

Questions about food poisoning came up, and I wanted to share what I learned from a chemist.
The guy who gave us our tour is named Ed. He's one of the brothers Ed is a chemistry expert and is involved in developing most of the sauce formula. He's even developed sauce formula for McDonald's.

Keep in mind that Ed is a food chemistry whiz. During the tour, someone asked if we really needed to worry about mayonnaise. People are always worried that mayonnaise will spoil. Ed's answer will surprise you. Ed said that all commercially- made Mayo is completely safe..

"It doesn't even have to be refrigerated. No harm in refrigerating it, but it's not really necessary." He explained that the pH in mayonnaise is set at a point that bacteria could not survive in that environment. He then talked about the quaint essential picnic, with the bowl of potato salad
sitting on the table and how everyone blames the mayonnaise when someone gets sick.

Ed says that when food poisoning is reported, the first thing the officials look for is when the 'victim' last ate ONIONS and where those onions came from (in the potato salad?). Ed says it's not the mayonnaise (as long as it's not homemade Mayo) that spoils in the outdoors. It's
probably the onions, and if not the onions, it's the POTATOES.

He explained, onions are a huge magnet for bacteria, especially uncooked onions. You should never plan to keep a portion of a sliced onion. He says it's not even safe if you put it in a zip-lock bag and put it in your refrigerator.
It's already contaminated enough just by being cut open and out for a bit,
that it can be a danger to you (and doubly watch out for those onions you put in your hotdogs at the baseball park!)

Ed says if you take the leftover onion and cook it like crazy you'll probably be okay, but if you slice that leftover onion and put on your sandwich, you're asking for trouble. Both the onions and the moist potato in a potato salad, will attract and grow bacteria faster than any commercial mayonnaise will even begin to break down.

So, how's that for news? Take it for what you will. I (the author) am going to be very careful about my onions from now on. For some reason, I see a lot of credibility coming from a chemist and a company that produces millions of pounds of mayonnaise every year.'

Also, dogs should never eat onions. Their stomachs cannot metabolize onions .Please remember it is dangerous to cut onions and try to use it to cook the next day ,it becomes highly poisonous for even a single night and creates Toxic bacteria which may cause Adverse Stomach infections because of excess Bile secretions and even Food poisoning.
Got an interesting message to share….
One of the hated word is "PRIDE"
because when you have it,
you always don't want to be the first
to do the step to be with someone
you always try to hide your feelings
you don't want others to know that your heart
your afraid of letting someone
know he's she's special
your afraid of losing someone
but also afraid to show it
your afraid to love someone whom
you think can't love you back
your so aware of what others think that
you can't do what you want
your not happy
and in the end you lose everything without
even trying to have it.
true?